September 1st, 2011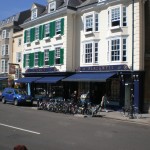 Blackwells must be the world's best bookshop, surely? I know that lots of people have favourite bookshops but I feel pretty lucky that Blackwells mother ship in Oxford is my local. I go there to soothe my soul. It's a Russian doll of a shop – eccentric at first sight because the shop front has two front doors and windows divided by a pub. The bigger of the entrances leads on to a rather old fashioned bookshop, quite large but no superstore. Should you descend the modest staircase signposted to the Norrington Room you will emerge into a vast underground room, with a well which leads to another level below and then, another below that. It is situated under the quad of Trinity College which is its neighbour.
Blackwell's is an ordered world in which no-one is hassled because they have sat reading a book for too long. Indeed, there are armchairs in odd corners encouraging it. And this being Oxford, there's an awful lot of work by local authors. Our old bookshop in Blackheath Village used to make a fuss of a book by a local author with special labels cut in the shape of a star but Blackwell's would have to have a complete galaxy if did the same. One Christmas I had the experience of buying two copies of book for presents and then, coming across the author of those books, sitting quietly in detective fiction.
I love browsing the bookshelves, taking a book off the shelf and sitting in a corner dipping in to get the feel of the book. Today on the table as I went in, was Good Food for Everyone by Colin Tudge – a science writer, philosopher, advocate of good food and friend. I was reminded that I owe him and his wife dinner soon. The next book that I picked up was Treasure Islands, the Truth About Tax Havens. The label said "frightening and true". It looks completely engaging and from a brief look, confirms my feelings about Jersey, which are that it is a dull island overwhelmed by moneyed people with no taste. And then, Anthony Seldon's book on Gordon Brown – a heavy hardback. If I had difficulty picking it up, I had more difficultly putting it down.
Blackwell's is for me a great temptation. I can easily walk out having bought a dozen books. But this is a problem. Our house is full of books; ours, our own, some inherited, some from relatives, some of our children's. I am constantly trying to thin them out and am a regular at the Oxfam bookshop. I have a tottering pile of books by my bed, all of them waiting to be read.
I'm actually a fan of digital books although I don't, as yet, have a Kindle. Being able to store all those books online would be terrific. And I'd be able to find a book there with ease. Often, I know I have a book SOMEWHERE but when I try to find it on one of the bookshelves it can't be found. On occasion I've bought a second hand copy of a book that I know for certain is somewhere in the house.
But if everyone used Kindles and books in their current form were superseded, whatever would happen to bookshops? No electronic version will ever be as tempting as a book on a shelf. The wandering around and picking up books introduces me to a whole range of subjects and authors that I wouldn't necessarily find otherwise. Walking through travel writing on my way to politics means I am distracted by the covers and the labels into reading a book on walking in India, on living in Spain or on the medieval villages of the Lot Valley. Going to the cash point means seeing beguiling titles in the science section or beautiful covers on botanical works.
I don't have an answer. I love that bookshop but I don't want to live in one. I like to keep my books but don't have either the shelf space or the dusting time. An electronic reader helps out a lot with that but I want to keep the bookshop. Perhaps in an ideal world, I'd buy a book and get an electronic version at the same time. I could read the proper book, send it to Oxfam afterwards and then keep the electronic version. Would that work? Whatever, I'll still spend happy times in Blackwell's whenever I can and be excited to bring a bag of books home to add to my tottering, 'to read' pile.