Sunday, March 9th, 2008
The English department at Oxford University is running a project archiving WWI memorabilia and it's stirred me into doing something I should have started a long while ago.
My great aunt, Bessie Marks who trained as a nurse in 1908 was a WWI nurse posted to Whalley Bridge Military Hospital near Manchester and after her death (well into her '90s) I inherited her autograph book from that time as well as her many photographs of hospitals she had worked in and nurses she knew from the early part of the 20th century. I also inherited her Queen Alexander nursing cape, torn at the shoulders where her epaulettes held it to her uniform and, delightfully, a little black woollen doll pinned to the inside.
So each day I scan in a few more pages. Many of the entries are in pencil and fading fast so I'm glad to have the impetus to record them. Some entries are angry, some poignant, several are upbeat and humorous. My great uncle, a trained artist, was one of her patients and has drawn a beautiful picture of Arab children.
There is also a note 'Only a word of grateful thanks to one of the very best from a patients mother Amy Harwood' and on the opposite page a note that has resonances.
When War is raging and danger is nigh
God and the soldiers the civilians cry
But when war is over and the wrongs are righted
God is forgotten and the soldiers slighted
It's a wonderful collection and when I first came across it I was constantly surprised and thrilled by discovery. And not least by this drawing. It illustrates a little poem called "Tea Time, K1 ward"
I've never tasted tea so fine
The bread and butter is divine
The cake is topping, so you bet
KI I never will forget.
So lively and humorous, drawn by Alfred L Pike of the 17th Royal Fusiliers on January 15, 1917. Evidently Alfred had been taught 'the line'. I'm glad to share him.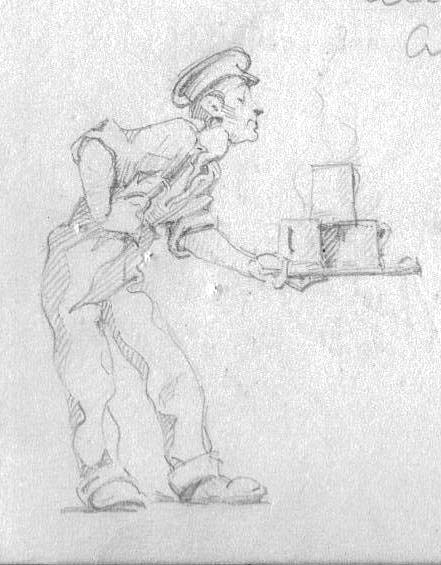 RITA MARSHALL
Since I posted my story about Rita Marshall I have found out that she died on 17 February. Two people have kindly left a message and Magnus Linklater wrote about her in his column in the Times. I can only say that I'm glad to have met her, sorry not to have known her.