Monday, September 28th, 2009
I had a day off today so I went down to Burford. I've already mentioned that I live alongside some of the most beautiful countryside in England. Burford is the essence of Cotswold village set along a hill with a High street that drops between stone houses essentially unchanged externally for three hundred years, and down to a single bridge crossing the Windrush river. The post office looks as must have done when Flora Thompson wrote Lark Rise to Candleford not far from here.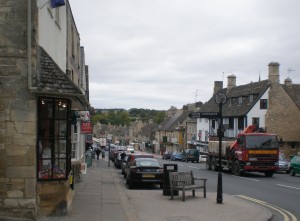 I am particularly fond of the church at Burford. It is nearly a thousand years old and full of stories. The Levellers were under siege here in 1649 and on the wall of the church is a plaque commemorating the three ringleaders who were executed by Cromwell's troops. On the lead rim of the font Anthony Sedley engraved his name. The Harman family memorial shows 16 children, all at prayer, (although a good few of them died in infancy) and features natives of a Brazilian tribe – possible the first depiction of American natives in England. There is a romanesque Norman entrance and a wonderful and awesome memorial to Lord and Lady Tanfield who were hated by the village, Lady Tanfield in particular. And up near the ceiling is the strange carving of three figures known as the Three Disgraces.
I went in and sat and thought about the men who had spent their last night here – unpaid and rebelling against Cromwell, himself the rebel leader. And what they wanted to achieve. I thought too about ideals diverted or, perhaps, perverted. Cromwell is an ancestor of mine (as he is of many people) and I take pride in the small part of my Parliamentarian blood heritage but not of the treatment of the Levellers.
Outside, the high street is completely full of gift shops, antique shops, Cotswold candy stores and restaurants, gastro-pubs, cafes and delicatessens. There is a shoe shop too where I heard the kind of accents that I thought had died with the Mitford girls sometime in the early 50s. I can buy lots of reading specs with fun frames and lots of ornaments on hedgehog themes and hand-baked meringue nests. There are bay trees in tubs outside the front doors which, if they are not 400 year old wood, are painted French Grey. The charming properties in Burford sell for huge sums of money, presumably to bankers with their bonuses. In the summer the pavements are shuffle-along only. It is massively popular with tourists.
Much as I like Burford, I think it is even less of a real place than Oxford. I live in a tourist town but at least we have butchers and places to get shoes repaired and Pret a Manger and dry cleaners. We have drunks and lots of thin blonde girls enjoying Friday nights out. I think that might be better than the almost Disney like quality of many of the perfect Cotswold villages. The question of whether to move to Burford or any of the villages around it is not one that I am likely to be able to afford to face I'm rather pleased to say. But I do suspect that if the Levellers came back they would recognize the town where they were finally run to ground and they would also think that their work was by no means over.