Here's a bit more about a story I wrote last year in March 2008 concerning my great-aunt's autograph book. One of the entries was contributed by Alfred L Pyke of the 17th Fusiliers when he was her patient in 1917. Thanks to the power of the Internet I found out some more about Alfred Pyke.
I discovered that a man called Roy Albutt wrote about the work of the stained glass designer Alfred L Pyke (1890 – 1976). I wrote to Mr Albutt who lives near Birmingham and he kindly sent me his paper about stained glass in the region. It turned out that Alfred Pyke worked in a studio between Redditch and Birmingham in a place called Tardebigge. He emigrated to Canada and died there in the mid-seventies about the same time as my great-aunt who had nursed him in the war.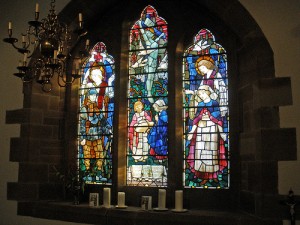 Caption: Memorial window, St George the Martyr, Redditch (c) Tudor Barlow
Roy Albutt drew my attention to a memorial window that had been designed and installed by Alfred Pyke which featured a QARANC nurse. It was in the church of St George the Martyr in Redditch, which is very near Birmingham where I often go to visit my son. So one Sunday last year we took a detour and found the church at the end of a rather run-down housing estate. It was a rambling Victorian building with a rather pleasant arts and craft vicarage next to it. The door was locked but on the notice board was a telephone number for the vicar. G called the vicar who told him that the church would be open on Wednesdays and Sunday mornings. When she'd heard the story she kindly agreed to open the church and took us in. And there was the window made by the artist whose drawing is so familiar and whose talent showed in the delicate lines.
The vicar was charming and told us she had recently used the window when she taught the Sunday School about the war. She took us around and we got the impression of a hard working and dedicated congregation but much diminished from the years when the church was built.
The window was lovely but sadly there was a hole in middle of the nurses' forehead, made by a pellet from an air gun. I found that very poignant. I added a scan from Roy Albutt's paper to the Oxford University WW1 archive and then, being curious, looked for any other mention on the Internet. And there was a lovely picture on Flikr. It's taken by Tudor Barlow who's made a specialty of photographing churches. He describes himself as a "retired person enjoying his camera and his life" Sounds good to me. He also told me that the church is likely to close in 2010. I'm really pleased he got in first. And I'm even more pleased to have been able to follow the author of the lovely little picture in the autograph book which I've known for most of my life